5 January 2021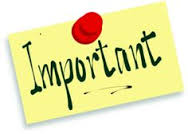 Dear Parents and Carers,
As you are aware, school is now closed (to most children) until at least half term. As of tomorrow, we will be opening for the children of critical or key workers only along with those children classed as vulnerable. Mrs Thurston has been contacting the parents of our vulnerable children to arrange for them to be in school.
If you are a critical or key worker and wish to send your child to school, you will need to inform us today. If we do not hear from you today, we will be unable to allocate a place until next week. If you want a place for your child please follow these steps:
Contact the school today by 3pm
Contact us via phone (on 01482 701407) or email (on T2P@southcoates.hull.sch.uk)
Please let us know which days you require a place for this week (in future weeks we will operate a booking system)
We will require proof of critical/key worker status (your work ID, a letter from your employer or a pay slip)
Breakfast Club will be available for critical/key worker children from 7.45am - please let us know if you wish to book a place
We will continue to use the gates / doors that we have been using since September for the moment. School will start at 8.55am and finish at 3.15pm. All children attending will need to arrive at the assigned gate for these times, unless they are attending Breakfast Club. Mrs Hepworth will be at the main gate from 7.45am to 8am each day to meet children attending Breakfast Club. After 8am there will be no entry until 8.55am.
Again, we apologise for the confusion and upset that this situation causes - however, as you know, this has all been very last minute from the Government.
Thank you for your continued support.
Kind regards,
Mr. E.R. Chamberlain,
Principal